Sunset in Oia and Traditional Villages - Bus Tour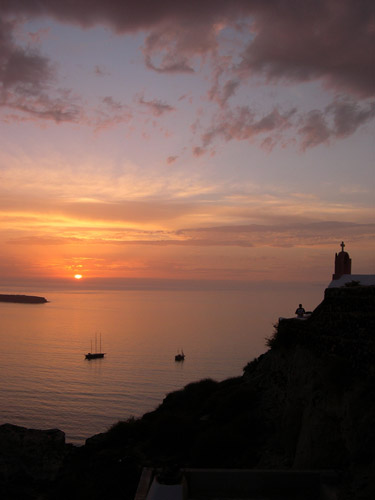 Code: KBU02
Our first visit will be at the oldest church of the island Panagia Episkopi built during the rule of the Byzantine Emperor Alexios Komninos during the 11th century A.D. Next we visit Mesa Gonia- the "ghost" village, there you will be offered tomato balls and a glass of wine and then drive to the village of Pyrgos. A traditional village with Cycladic architecture, Byzantine churches and a Venetian castle. On our way to Oia, we stop at the idyllic village Imerovigli to enjoy the most wonderful view of the caldera. There we also find Skaros, a grand rock, the remnant of the most important castle. Our last stop is the breathtaking Oia village. Oia is famous for being the place of gathering artists, who are inspired by the beauty of the landscape and the magnificent purple sunsets.
Languages spoken during the tour
English every day
German every Tuesday, Thursday and Saturday
Greek every Wednesday, Friday and Sunday
Notes:
There is a specific bus for the people who stay in Perissa, so please make sure that you board the correct bus.
Price per person :25€
Departure:
Every Day
Departure time from May till September:
Kamari 15.00
Messaria 14.50
Fira 14.40
Perissa 14.15
Karterados 14.45
Departure time from September till October:
Kamari 14.00
Messaria 13.40
Fira 13.30
Perissa 13.15
Karterados 13.35
Return: 30 minutes after sunset