Bus Tour Around Santorini - Bus Tour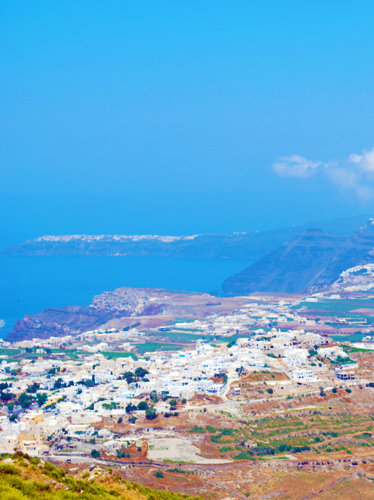 Code: BBU01
Every day except Monday: 11:00 - 17:30
Our first destination is Prehistorical museum, where you can admire the host items and masterpieces of art from the prehistoric Cycladic islands. We will spend time there about 45 - 50min.
Next we will visit the Monastery of Profitis Ilias which is at the highest point on Santorini and spans to 1,856 feet at the summit. From here you can see the surrounding islands and, on a clear day, the mountains of Crete, more than 100 km (66 mi) away. We will make a photo stop for about 15min.
At a distance of 10 klm far from Fira at the Southwest, it is found Megalochori. Its name in greek means "big village". Typical traditional cycladic houses, neoclassic buildings and small houses dug in the volcanic rock blend together with harmony. We find here also the typical small white churches, some of them with their blue domes. Our free time there will be 1/2H.
At Perissa we stop for about 2H. to see the longest dark sand endless beach.
A feature that makes Perissa unique (besides the crystal water and the smooth sand) is the fact that is the best protected beach from the summer Aegean winds. You can there have lunch (which is not included in the price).
Our last stop will be In the Wine Promotion Center where is offered:
A quided tour in SantoWines winery, where one can see the whole wine making process, from the moment of grape pressing up to bottling.
A visit to the aging cellars where one can feel the atmosphere created from the combination of the barrels wood with the wine which is in the process of aging.
Audio-visual multimedia about the vineyard, the wine making tradition and the wine of Santorini.
A taste of wines. Specialized enologists give away the wine's hidden secrets, while the visitors may taste and get to know the various types of company's famous wines (included in the price).
In this last destination will be about 45min.
Price per person: €25