Santorinian Festival - Winery Tour - Bus Tour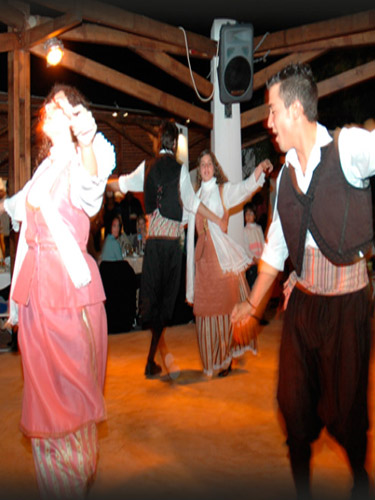 Code: WBU04
This will be a night of celebration under the stars you will never forget! Come and enjoy a spectacular fun-filled evening held in a time - honored Santorini winery.
We'll start the evening with a tour of Santorini's Cave Wine Museum where you will have the chance to sample some of the local wines and buy the ones you like best directly from the wine makers.
Next, you'll feel the spirit of Greek customs displayed through traditional dances as well as belly dancing to the sound of live music and singing. We know you'll want to join in and of course no Greek Night would be complete without the chance to break some plates… Greek style!
There's still more…
A perfect recipe to complete the true setting of some memorable Greek entertainment. Yammas!
Arrival at the winery 19:45
Duration of visit to the cave wine museum 30 minutes
Wine tasting 20 minutes
Buffet dinner
Live music, traditional dances and fun until midnight!!!
Menu
Salads: Greek salad, potato salad, green salad, tzatziki, fava, wine leaves stuffed, taramosalata
Hors d'oeuvres: cheese pie, spinach pie, tomato balls, traditional Santorinian pasta in garlic sauce
Main dish: mousaka, gyros pork (kebab), chicken breast in yogurt sauce, meat balls, potatoes in oven, fresh grilled vegetables with feta cheese, fresh steamed vegetables
Varieties of rolls and breads
Dessert: Greek sweets, fresh fruit
**Note: Jacket for the evening as it might be chilly.
EVERY Friday
START 19:30
Pick up from Kamari at 19:45
Pick up from Perissa at 19:30
RETURN MIDNIGHT
Price: 60€ per person