Hiking Ancient Thera - Perissa
Hiking
Experience Santorini from a different point of view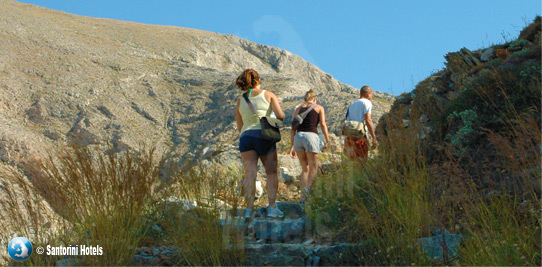 Who would expect that Santorini besides the luxury hotels, the hospitality, the services, the restaurants and night life has more to offer? It's no coincidence that Santorini is the top destination that combines comfort with adventure, relaxation with exercise and above all mountains with a sea view. These contrasts can be experienced through our hiking guide that will show the beauty of Santorini hidden in its mountains, in its inaccessible beaches, and its volcanic paths.
Note: Click on each small image on this page for larger view
Ancient Thera - Perissa
downhill throught Mesa Vouno and Profiti Ilia
General Information & Tips

Distance: 2.23klm (1.39 miles)
Duration: Min 40m - Max 1 1/2hrs
Items worn: Sneakers / Hat or Scarf (Due to strong winds your hat may not stand) / Sun glasses / Sun cream
Supplies: One or two bottles of water
Must have: Camera plus spare batteries and film/memory card. A bathing suite might be useful, since your trip ends at the beautiful Perissa beach.

A rather normal downhill course with only one difficult part towards Panagia Katefiani.
Also view Ancient Thera - Perissa hiking path on map
The path to Perissa leads you through the slopes of Profitis Elias and Mesa Vouno. It is an ancient path, its history hidden under the undergrowth and the rocks.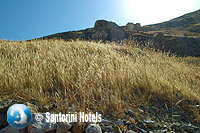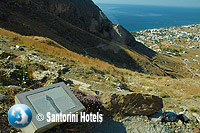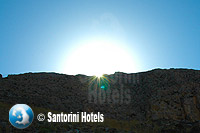 After a few minutes walk under the hot sun, you will find the area where cremation burials of the Archaic period came to light. The most important finding of ancient Thera was the oversized marble statue of a kore of Archaic age, which was found almost undamaged.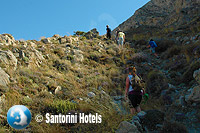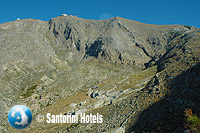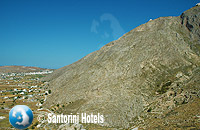 After a 10-minute walk, you will start feeling the benefits from the huge mass of rock that lies on your left, Mesa Vouno's shadow. On your right, you can see the Monastery of Profitis Elias that stands proudly on top of the mountain, gazing the magnificent view.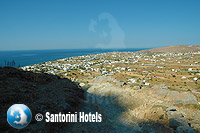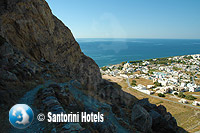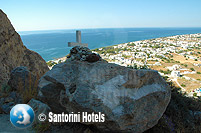 The route continues, light and shadow fight for dominance and, in the middle, Perissa stands unruffled and beautiful, waiting for your camera to capture the spectacle. After 20 minutes, you will find a small path on your left which leads to a rock with a cross on top and an arrow pointing to a new, unknown direction.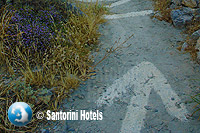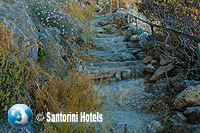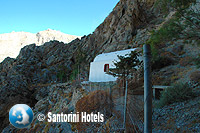 Do not hesitate to follow this path. It will lead you to a rather hard uphill route with 90 stone steps. But, just like everything in life, after the hard ascent a reward emerges from the rocks; the chapel of Panagia Ketefiani. Built in a huge rock, it looks like a father hugging his daughter in front of the breathtaking view of Perissa and the Aegean Sea.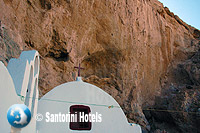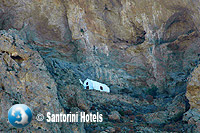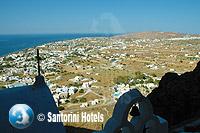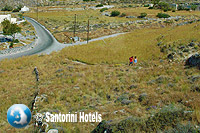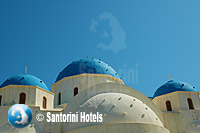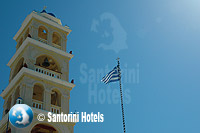 When you return to the main path, you will realize that you are very close to the end of the route. After 6-7 minutes, you will find the asphalt street where you should go left towards the sea and, after an 8-10 minute walk, you will find Perissa's square; there lays one of the largest churches of the island called Timios Stavros.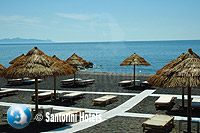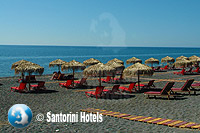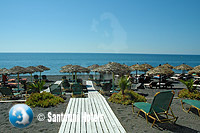 After the 60 minute walk, we strongly recommend you to take a rejuvenating dive into the "soul-healing" waters of Perissa beach. As the refreshing water embraces your body, the sense of a fair reward will splash all over you! Enjoy Perissa – Enjoy Summer!