Collection of Icons
Collection of Icons and Heirlooms of Pyrgos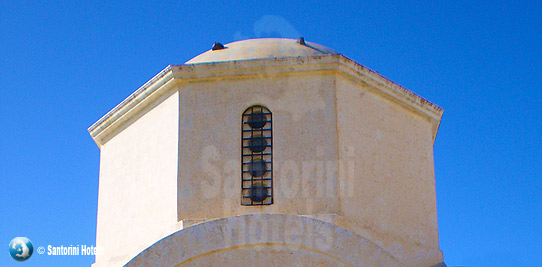 The collection of ecclesiastic heirlooms in Pyrgos is housed since 1997 in the small church of Aghia Triada (Holy Trinity), which functioned as a nunnery, was abandoned after the 1956 earthquake but was reconstructed later. This small collection of portable icons, ecclesiastic vessels, embroidery, pottery, wood carving and metallurgy dates from the 17th and 18th century, the era Pyrgos enjoyed its heyday.
The oldest icon of the collection dates back to the 16th century, depicts St George (Aghios Georgios) and scenes from his life and probably belonged to Aghios Georgios church. Three icons belonged to the small church of Aghios Ioannis Theologos. The first one depicts St John (Aghios Ioannis) holding the gospel, pen and ink. The second one depicts Virgin holding Jesus and is signed by "Stylianos from Castro of Crete"; it is the only icon by this artist that has been discovered. The third one depicts Holy Trinity surrounded by angels and was made by the eminent Cretan painter Emmanouel Skordilis.
Two icons made by another well-known Cretan painter, Viktor, are included in the collection. The first one depicts the Dormition of Virgin Mary and belonged to Faneromeni church. The second one is a large icon, probably from Eisodia church, and depicts Jesus on a throne. To Faneromeni church two more icons belonged, one of them dates since 1676. An icon depicting Aghia Ekaterini dates since 1747.
The Cross and the Sepulchre are two beautiful wood carving samples. In a show case located in the center, embroidery, ecclesiastic wear, Mass books and various ecclesiastic vessels are on display.
Address:
Icons and Heirlooms Collection
Pyrgos Santorini 847 00 Greecet
Tel: +30 22860 31812
Open: April till October / 10:00 - 16:00