Koutsoyannopoulos Wine Museum
G. Koutsoyannopoulos Winery - Wine Museum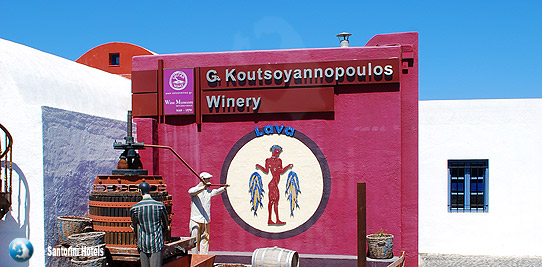 The Wine Museum is housed in the Volcan Wines winery and was created by the Koutsogiannopoulos family, who came to Santorini in 1870. Grigorios and Dimitrios Koutsogiannopoulos originally traded oil and, when they made a fortune, they got involved in producing wine at the geologically particular Santorini, where wine has been produced since Minoan times.
Note: Click on each small image on this page for larger view
Wine Museum
Dimitrios Koutsoyannopoulos Legacy
General Information

Address:
Wine Museum
Vothonas Santorini 847 00 Greece
Tel: +30 22860 31322
Open: April till October 12:00 - 20:00
Price: 6 €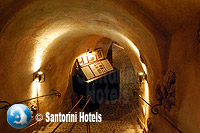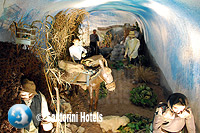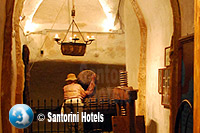 The exhibition lies in a nicely lit caved basement and consists of 24 thematic units that present the history of the Koutsogiannopoulos winery and explain all the steps of the wine production procedure in Santorini, from vintage to bottling. This is done with the use of effigies.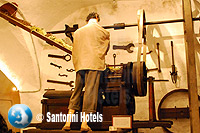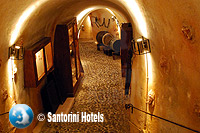 The museum collection includes machinery, vessels and tools for processing grapes that date from the 17th century to 1950. The most distinguishing exhibit is a massive grape compressor from Bavaria that was ordered by king Otto in 1832. It was used for producing wine for the palace and functioned with steam. Other exhibits are: a hand operated wooden press that was brought in 1660 by Catholic monks from Languedoc, France, oak wine barrels and 19th century iron and wooden tools from Germany.