Maritime Museum
Naval Maritime Museum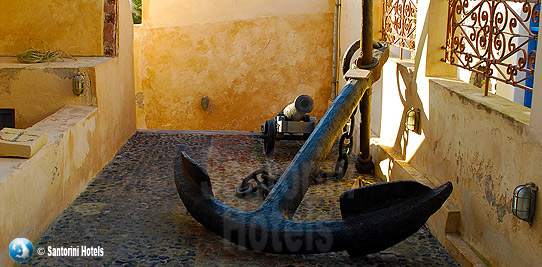 The Maritime Museum of Thera was founded in 1951 by Antonis Dakoronias, captain of merchant navy, and was housed in his grandfather Minas Nomikos' house. Since 1990, it is housed in a two-floor restored captain house that was donated by Birbilis family. The naval history of Thera unfolds through the carefully selected exhibits.
Note: Click on each small image on this page for larger view
Naval Maritime Museum
The Naval History of Santorini
General Information

Address:
Naval Maritime Museum
Oia Santorini 847 02 Greece
Tel : +30 22860 71156
Open: Daily 10.00 - 14.00 & 17.00 - 20.00 (Tuesday closed) Price: 3 €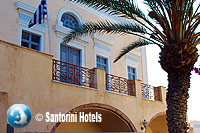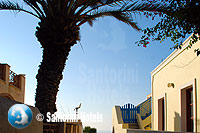 In the ground floor, naval equipment is on display (like sextants, compasses and logs) which is accompanied by illuminating information tables. Moreover, there are chests depicting naval subjects, in which the captains used to keep their personal belongings when they were on the ship and tools from the two shipyards of Santorini, Nomikos' and Vlahos', where many sailing ships were constructed. Among those, there are a manual presser drill, a perfectly preserved foot-operated lathe and the patterns that Mastrantonis, one of the last craftsmen, used in his shipyard.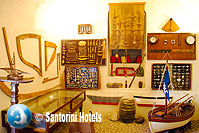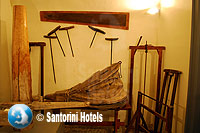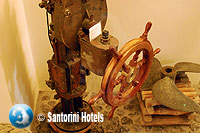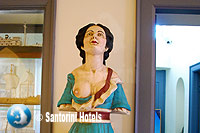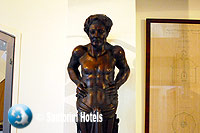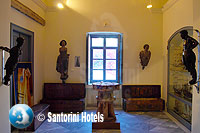 On the upper floor, sailing ship spares, ship models, uniforms, a collection of Theran captains' portraits (the ones by Aristides Glykas are the more distinguished) and five figureheads. Three of them are excellent samples of folk wood carving and date from the 17th century. The one of the female body wears an ancient Greek frock, the other dates from 1871 and comes from the sailing ship "Produce" and the last one depicts a female figure with one breast uncovered.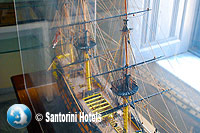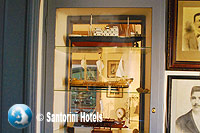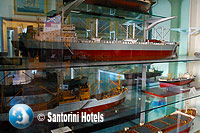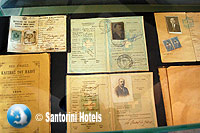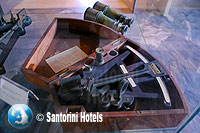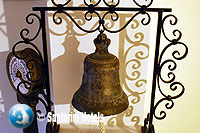 The Museum library and the historical archive are also placed there. The books come mostly from the naval schools of Syros and Santorini, which were founded in 1882, and from the captains' libraries. The most important ones are Ioannis Patousas' philological encyclopedia, dating from 1795, a book about the different positions of the sun, dating from 1894, and a hand-written book with a list of lighthouses. The archive includes ship journals, naval maps, shipping bills, marine contracts and ministerial documents. One of them is signed by Andreas Miaoulis, when he was Minister of Economics.
At the staircase uniting the two floors, a map showing the course of the cyclone "Flora" of 1963 is on display. Finally, the photographic collection includes photos of crews, students of naval schools, shipyards and the settlements of Thera and Oia in the 19th and early 20th century, when Oia had 13.000 inhabitants and Santorini was intensely active in the naval domain.