Nomikos Center
Petros M. Nomikos Conference Center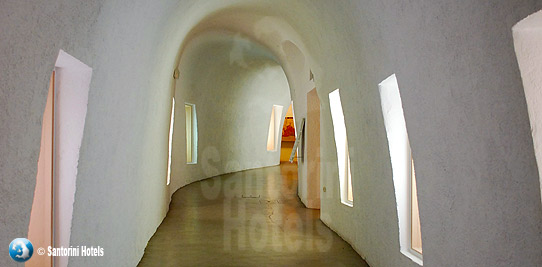 The Petros Nomikos Conference Center is housed in a neoclassical red building at Fira, overlooking the caldera and the volcano and was inaugurated in 1989. it is operated by the non-profit Thera Foundation. Every summer, it hosts an exhibition of reproductions of the wall paintings that were found in Akrotiri.
Note: Click on each small image on this page for larger view
Petros M. Nomikos Conference Center
The Wall Paintings of Thera
General Information

Address:
Petros M. Nomikos Conference Center
Fira Santorini 847 00 Greece
Tel: +30 22860 23016 - 7
Open: From 10.00 - 21.00
Price: 4 €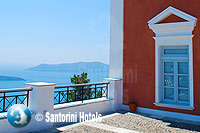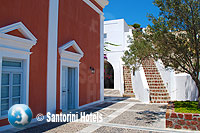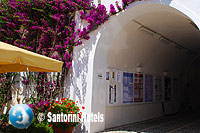 The reproductions were made by Petros Nomikos, who followed a sophisticated and advanced technique and managed to create exceptionally realistic and faithful reproductions of all the wall paintings that were discovered.
The wall paintings of Akrotiri are of utmost artistic and historic importance. Many of the originals are still not accessible to the public. Thus, the Nomikos exhibition offers the visitors a unique opportunity to view and admire all of them.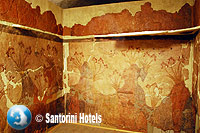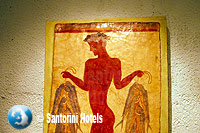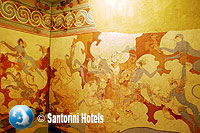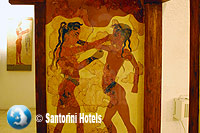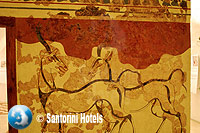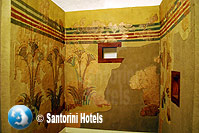 The exhibition ends with a collection of photos that present the daily routine of the people that worked at the Akrotiri excavations.