Pyrgos Traditional Village
Kanava Drossou-Hryssou / Traditional Santorinian Village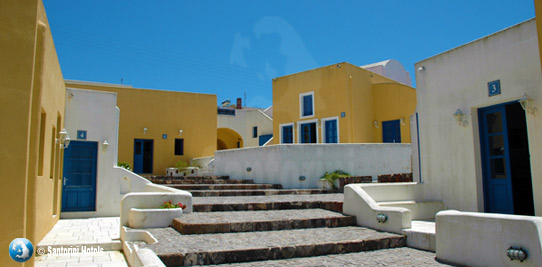 The Kanava Drossou-Hryssou at the village of Pyrgos is a complex of buildings that have been transformed into a Traditional Santorinian Village and offer the visitors a unique opportunity to discover how life was in the 1950s. Each building presents a different aspect of Santorinians' daily life and is decorated according to its theme, whereas photos on the walls depict real-life scenes.
Note: Click on each small image on this page for larger view
Traditional Santorinian Village / Vanishing Santorini
A Travel into the Past of Santorinians Life
General Information

Address:
Kanava Drossou-Hryssou
Pyrgos Santorini 847 00 Greece
Tel: +30 22860 31101
Open: Monday to Saturday / 8:00 to 15:00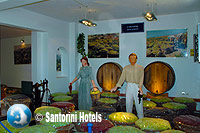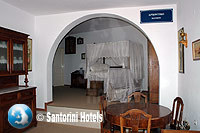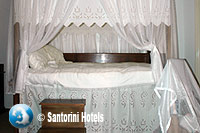 The exhibition starts with the vintage or vendema that was the most important event of the island. It proceeds with the representation of a typical mansion and its interior. Pay attention to the height of the bed that needed a small stair to get on and the tsimpiniki, the mosquito net.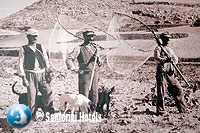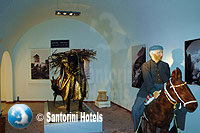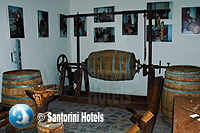 In the next buildings, typical professions are presented, like the farmer, the musician, the fisherman, the tin smith and the barrel-maker, the song-bird catcher, the game-bird catcher and the traps they used.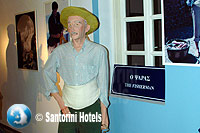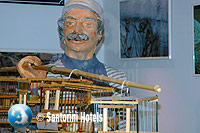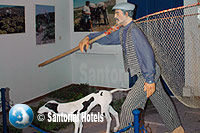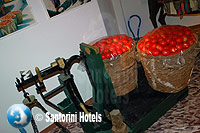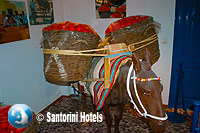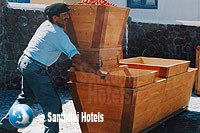 Another typical Santorinian activity was the process of the cherry-tomatoes and the production of wine and tsikoudia. Those two units are fully equipped with original tools.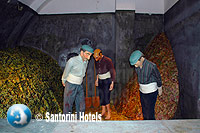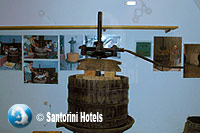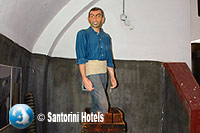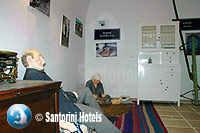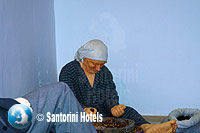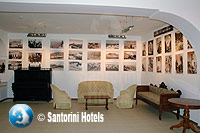 There is also a representation of a typical peasant house and the way they made the fava. Here, pay attention to the kitchen and the way they used to cook.
The exhibition ends with an interesting photo collection of late 19th-early 20th century Santorini. The Traditional Village Drossou-Hryssou is one of the most interesting museums of the island, as it manages to travel the visitor back to the past. It is well-formed, with faithful representations, effigies and original furniture and equipment. Plus, the guide is proficient and helpful, willing to answer all the questions and manages to communicate her pleasant mood and passion to the visitors.