Roussos Winery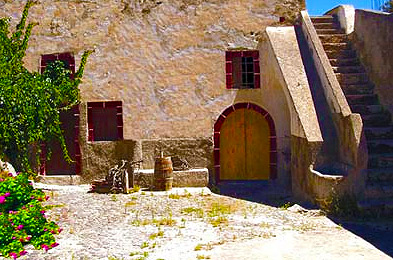 The Roussos winery was founded in 1836 and is the oldest of Santorini. It is located at Episkopi - Mesa Gonia. They cultivate 14 hectares of vine. Ioannis "Captain" Roussos' optimism and life style reminds of classic movie heroes. Its winery is really traditional that has taken only the necessary steps towards modernization.
Its strongest point is the sweet wines, like the Nama, that is produced like Vinsanto, with the difference that the grapes are sun dried for less than a week and mature in the oak barrel for only one year, and Mavrathiro, that is considered to be the best Roussos wine.
Nychteri

Nychteri: VQPRD dry white wine of 100% Assyrtiko that is left 15 months in oak barrels. It is served at 10-12 C and accompanies grilled fish, meat, white sauces, cheese.

Vinsanto

Vinsanto: VQPRD sweet wine from sun dried grapes from the Assyrtiko, Athiri and Aidani varieties that ages for 4 years in the barrel. It is served as aperitif, at 8-10 C.

Roussos Santorini

Santorini: VQPRD dry white wine of 100% Assyrtiko sun dried grapes that is served at 9-10 C and accompanies seafood, fish, hard cheese.

Rivari

Rivari: Dry rose table wine.

Caldera

Caldera: Dry red wine.

Athiri

Athiri: Barrel aged demi-sec wine from sun dried grapes.

Mavrathiro

Mavrathiro: Barrel aged red sweet wine from sun dried grapes.